A couple of months ago I attended one of Mashable's Social Media Day tweetups as the Boston Seaport Hotel. It was the first time I'd attended an event there and after I got there I realized why the social media savvy types chose that hotel. The function room was beautiful with a panoramic view of Boston Harbor across seen through expansive glass walls.
It wasn't until later I went to their and found their Twitter and Facebook accounts. They do a good job of simple social media marketing. You'd be surprised how many hotels (and even luxury condo developments) don't do social media marketing.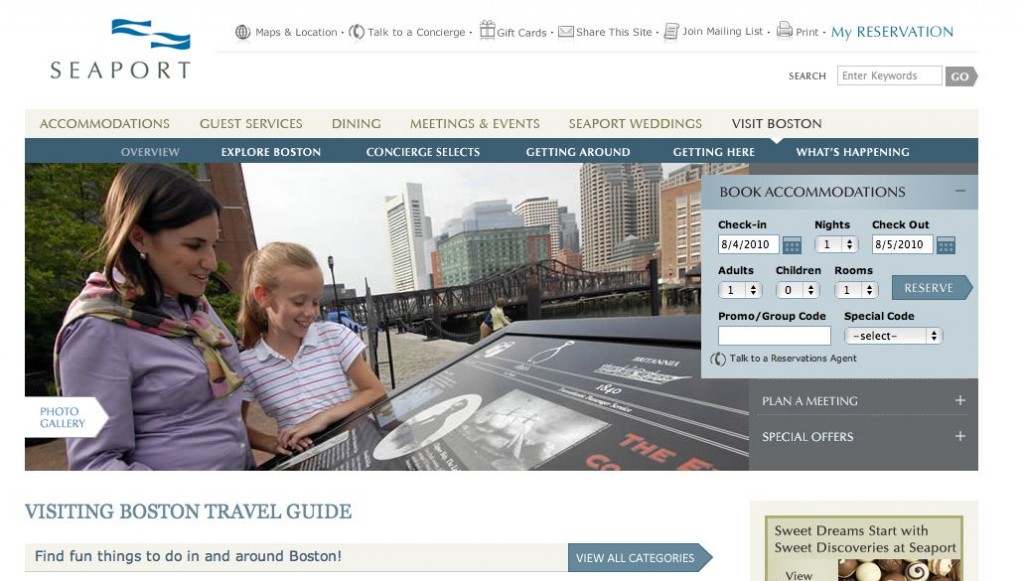 The Boston Seaport Hotel on Twitter: This is a textbook example of how easy it is to get a much-followed popular Twitter account. The account has 1,799 followers and their messaging is simple and direct marketing. What do you want when you visit a hotel Twitter account? You want to get the "flavor" of the place.
They have this in spades: you'll see they are promoting their restaurant; they are promoting their memory foam and other pillows from their "pillow library" (with a link to their amenities web page); they are announcing food specials at their bar, TamoBar (which has its own Twitter page too). The point is – you get a sense of activity and hospitality.
The Boston Seaport on Facebook: This is still what I'd classify as a "plain vanilla" Facebook page, but it is active and fun. You'll find photos of prepared dishes by a new chef here. They post photos from guests who've held wedding receptions as well. And they are generally "chatty" about company news. The page only has about 526 fans, so it's not like they are a runaway train on Facebook. But their page does show what you want to see — their "Info" tab features a detailed list of hours of operation for their restaurant, bar and fitness center.
There are a few things they could do to make their social media really shine. For instance, their Twitter page could use a custom background (like a high-res picture of the hotel or view of Boston Harbor from a function room). I'd also add an info box on that custom background too (some description, details of amenities, phone numbers, etc.).
They could also use a custom landing page for their Facebook page — one built with static FBML, which can make a Facebook page look like a web page. This is a "clean slate" on which they can do anything.  Hotels should really be giving their visitors an "oh wow" moment when they land on Facebook. For example, look at what the Mandarin Oriental Hotel Group do on their Facebook landing page.
But still – the Seaport Hotel does a great job, and it is proof that it's not that hard to do social media marketing for a hotel.