For many small businesses or individual business users, the idea of using the tools of social media is appealing because they see it as an easy "broadcasting" tool. It gets them on the web even when they don't have a deep or robust web presence.
Yes, this is true, but the real value of social media, be it Twitter, Facebook, blogging platform, etc., is the ability to interact with customers/clients. In a post last week I showed how you can use Twitter to prospect for clients. But an even simpler way to use social media is to just listen and respond.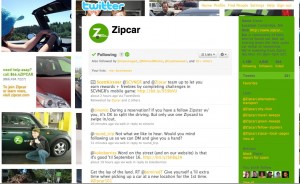 A great example of social media as customer service tool is to look at how Zipcar uses their Twitter  and Facebook account. Cambridge, MA-based Zipcar is operator of a car -sharing service, mainly in densely populated urban areas. Its emphasis is on self-service (complete with iPhone app) and the ability for members to easily get a car from service lots or easily accessed locations.
I won't extoll all the virtues of their social media efforts but small businesses can learn the lessons of social-media-as-customer-service from Zipcar: On Twitter (4,600+ followers) it's obvious that Zipcar is monitoring all mentions of the word "Zipcar" and responding/tweeting to customers who may be less than happy. Or to ones who are. I don't know what tool they use, but if you can set up a free Hootsuite account or Tweetdeck account, your business can do the same thing by using the search functions. Or you can always use Google Alerts.
Here's a textbook case of someone who tweeted about not being able to get a Zipcar for a holiday — and a Zipcar manager got in touch with them: Zipcar Does Social Media Right.
Here's the value of listening: Think how much one good positive customer story like that is worth. Would it be that hard to ask that happy customer to post a review on Yelp? Or to write an email and ask permission to use that "testimonial" on your , blog or in a newsletter?
It's also obvious that the Twitter team at Zipcar is doing some client prospecting: like my prior post mentioned, they are monitoring tweets for mentions of people with car/transportation issues, and reaching out to them on Twitter to suggest using Zipcar.
Of course they are also, amid the replies to users (happy or not), reminding people of services and promotions. Such as $150 in free driving when a member gets their boss to sign up the company for a business account. And that's not all they have for promotion either: they just launched a Scvngr promotion that lets members earn points to rewards.
On Facebook, Zipcar is simply doing a stellar job of company promotion, but it is more one-way than their Twitter account. Still … it's a great Facebook page, complete with videos and deep info on their "info" tab.
The point is: interacting with customers isn't that hard, but you have to get in the game.