I help companies and individuals figure out what content makes sense for them, and how it can fit into their marketing strategy. For clients who want to produce their own content, it helps for them to see and read what their community of clients, competitors and others are "talking about" in their market.
The problem is, for the uninitiated, submerging into the boiling content mix is a daunting task. Let's face it, no matter what tools you use, it's still a hassle tracking and monitoring LinkedIn, Twitter, Facebook, blogs, company home pages, press releases, Pinterest, Instagram, YouTube, email newsletter subscriptions, RSS feeds … and more. And yes, I know about Hootsuite. Even that can be daunting to new users.
So here's what I discovered recently.
I'm using Feedly now as my blog and content aggregator and hands-down, I love it. It provides a visual yet minimalist view of many blogs and content, and you can customize content by category. The visual element I particularly appreciate. When I'm hardcore researching, yeah, I don't need pictures. But when  I'm just perusing or reviewing quickly, I appreciate seeing images associated with blogs — it helps with recall. See, it looks like this (with my settings)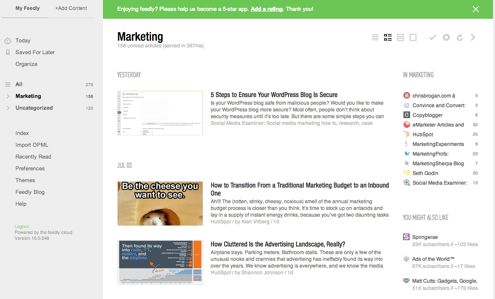 From now on, I'm just saying "use Feedly." Simple, easy, no muss, no fuss. And a curious thing is happening the more I use Feedly … I'm on my Hootsuite account less — and finding it less compelling. Maybe it's because of what I now call the blog corollary of content marketing: If you've got something really important to say, put it in a blog.
So here's the five top reasons why I'm all in:
1. I never used my RSS feed as much as I should have — because it was visually boring and not very customizable. Yeah, I used Google Reader mostly — but I hadn't used it in a very long time. Only when I heard of its demise and saw article on new alternatives did I think "Oh yeah – Google Reader, I remember that."
2. I'm not that interested in everyone's Tweets — sorry. Actually, I'm not that sorry. I'm using my social media for what I call "meta purposes," that is, to stay on top of marketing trends. Everyone selling me something every other minute is no longer very interesting to me. I'm busy doing things like helping clients (as are 98% of the people who read those tweets). If you've got something important to say, you'll put it in a blog (and you know I'm right).
3. Feedly's design is simple and intuitive (mostly). I didn't have to figure anything out. I made categories and lists easily and started using it without thinking about it. This is the way all software tools need to work — and I'm not apologizing for saying that.
4. I can choose from various formats how I want to read all the blogs I'm following in Feedly — as an RSS-like list, as a more-visual index with summaries, or as a list of full articles. This comes in handy when I want to review a lot of posts at the same time (as RSS-like list), or just peruse the day's posts quickly (index with pics), or dig deeper into a single blog's posts (full article format).
5. Some people have complained about a feature of Feedly — if you "read" an item (expand it or link to it), it "disappears" from the timeline in the center well. But it doesn't disappear really — it gets moved to "Recently Read" … My "Recently Read" list is really where the meat is if I want to go back and look up stuff.
So, yeah, this isn't the ultimate list. And Feedly is by no means perfect. I just think it's a great tool for aggregating and reading content.