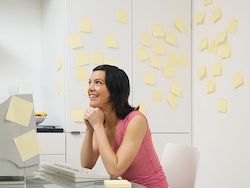 Data, data everywhere — and not a thought to think.
Is that what it feels like sometimes when grappling with analytics? Does it really inform the creative side of the equation? Of course, you know it does, but there always seems to be tussle between a "hunch" and a good solid data-derived decision, isn't there?
If you have anything to do with Web marketing, you know that it's a world increasingly awash in the promise of data-derived decisions. And yet … experience tells me that sometimes just plain old hard word works too. And so does a brilliant off-the-cuff hunch.
It's a classic fight of whether you are following the head or the heart when trying to drive a result. Of course you are using data … but we all know at some point creativity and the ability to reach the human element matters, too.
So a recent post on the HBR Blog Network caught my attention with this headline: "What Data-Obssessed Marketers Don't Understand" (requires free registration to view). It's an interesting post that offers up an interesting thinking tool called "The Intelligent Brand Framework." The two Gartner Inc. coauthors argue that the obsession with "big data" can obscure something basic: That data-derived decision making may be disconnected from what really motivates buyers.
Fair enough (though I suspect they are conflating "big data" with "analytics" … but that's another story). They include a nifty chart, however, that I'm beginning to toy with for my own work. I must say it is a nifty tool — and it has a great name that makes me feel smart just for using it, too.
Or manipulated — I'll leave that to your judgement.
So: I heartily recommend the piece and the tool. And check out the discussions at the end too. Good comments on this post from David Bloch, in particular.
[Photo Credit: Victor1558 via Compfight cc]