So because no one else seems to be willing to say it, I will: The boom in content marketing has led to a tidal wave of crappy content. Either that, or Google has changed their algorithm to ensure that every time I search for something substantial I get shallow, pedestrian blog posts and 10-page Slideshare presentations that manage to say nothing.
Either way, it's getting ridiculous.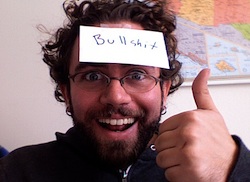 I'm serious people! Recently I've been working on experimenting with Facebook and LinkedIn ads for a client. So, when it was time to put together my own reporting on the results, I struggled with some of Facebook's definitions. Yes, I found a glossary of Facebook ad definitions (here), but I was curious to see what other people had written about how they measure Facebook ad performance.
So I searched for information on many terms related to Facebook ads, and tried to find some posts on how others measured ROI of Facebook ads. The search was fairly useless, at first. Then I kept following bread crumbs to other … useless posts. Then I followed more results to find … shallow crap.
What really intrigued me, though, was that so many of these posts were from people who where obviously in the marketing biz. And they couldn't muster anything much more obvious than "measure impressions and click throughs!" … Thanks Einstein.
Marketers writing about marketing (what I'm doing at this moment, yes I know the irony) in order to advertise a marketing service is something I call reflexive-marketing. And there is way too much f—ing reflexive marketing content out there people.
And it's not particularly illuminating. Remember that 10 page Slideshare presentation I found? Honestly, putting a graphic up that tells the reader to remember that "Facebook is social!" kind of assumes the reader is an idiot or possibly has never been exposed to civilization on planet Earth. But maybe that's who you think your audience is — good luck with that.
I even found a packet of posts from a huge website devoted to social media news on the subject of Facebook ROI.
All. Superficial. Crap.
So … If I'm getting swamped by content by marketers who can't get beyond the superficial, the obvious and the near-moronic, what, in god's name, are marketers doing when writing about their clients' subjects?
OK, I've been venting. But you know what, I'd like to see a lot more people talking about what they really experience in the world of content marketing than 100 reflexive marketing blogs trying to blow a lot of smoke up my nether regions. But maybe that's just me. Now excuse me, I have to cobble together some more reports based on Facebook's epically shitty ad metrics data.
Oh, and just to show there's an exception to the rule, here's a great post on Facebook ROI from Emeric Ernoult on the Duct Tape Marketing blog: The 6 metrics that determine your success on Facebook. Not coincidentally, Ernoult's company decodes Facebook's shitty metrics into usable information. And no, I didn't get paid to say that.