It was barely 10 a.m. in the big city that I call home, West Squeegie, when I got my first client call of the day. I was still savoring my second cup of coffee, that black boiling-hot lifeblood of tired marketers everywhere.
I swung my cheap knock-off wingtips off the desk and picked up the receiver. On the other end was a certain Ms. Tiubie. I could tell she was a pro in the marketing biz from the smooth patter of her delivery, but I could also sense that something was wrong. I asked her to cut to the chase — why was she calling me?
"Well, it seems we … we've lost our value proposition.  We're not sure where it is or what it's doing," she said.
"Hm. When was the last time you saw your value proposition?"
"Honestly, the last time was after our company launched and our sales chief was training our sales staff. Now they don't even know where it is. We keep growing and changing our , but every time we look for our value proposition … it's not there."
I'd heard this story before. So many times I couldn't count.
"OK, I think I can help you," I said. I filled out my "All Points Bulletin" or "Be on the lookout" form. It goes something like this.
Description of Value Proposition of high importance: Clearly and concisely describe a company's unique traits in its market by relying on credible, fact-based information. Should be able to speak to the company's target client/customer and answer the questions "Why should I consider you instead of your competitors?"
Location: Usually lives on home page as a prominent headline or text and is underscored by supporting information.
I then gathered Ms. Tiubie (Beatrice) and her colleagues into a room and started the process. It goes like this:
Write a detailed description of your ideal client focusing on 10 traits of their position and authority.Then write 5 core NEEDS of that client.
List 15 traits of your company's services or products: they must include at least 5 traits that are UNIQUE and fact-based, supported by data.
Do any of your UNIQUE traits address the NEEDS of your client in any way? If not … start over with the UNIQUE traits again or the NEEDS. Redo both lists if necessary.
Once you have matched at least 2 pairs of UNIQUE traits and NEEDS, finalize the value proposition process by asking this question: What are the top 5 ANXIETIES that would prevent my ideal client buying our product? Be honest. Put yourself in the shoes of your client or customer.
Next: Write a headline with at least 1 pair of matched UNIQUE traits that address an ideal clients' NEEDS. Then ask yourself how you can address the top anxieties.
Addressing needs without addressing anxieties is pointless in Web marketing. Your Website and company, to any new prospect or client, needs to overcome a very high hurdle of distrust specifically because it is on the Web and therefore NOT personal and tangible.
I'll give you a great example of a value proposition that works. Here's the home page of the web hosting company Bluehost.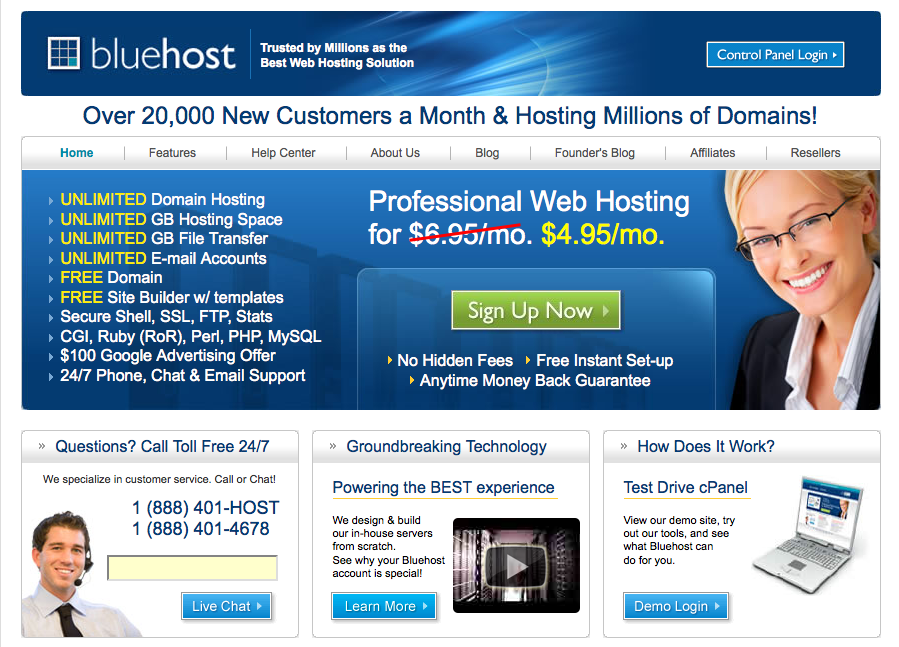 Do you see the value proposition? It's "Over 20,000 New Customers a Month & Hosting Millions of Domains!" Why is this a great value proposition? Think of the need of the ideal customer for a web hosting company — it's actually almost the same as the top anxiety: "I need something stable and reliable — Is this hosting company stable and reliable?"
Because a hosting company that's not stable and reliable isn't worth it at any price. So the headline does contain two main pieces of credible, fact-based information: "20,000 new customers a month" and "hosting millions of domains." So where's the UNIQUE aspect? It's the number 20,000 … it's very specific. It also, I think, unconsciously speaks to steady growth.
Now look at the supporting text supporting the Call to Action (Sign Up Now). It is a mixture of points addressing NEEDS while also addressing ANXIETIES. Words like "unlimited" are also powerful and better than words like "free."
After a million cups of bitter, hot, depraved coffee, Ms. Tiubie and her team had come up with their own set of unique traits that addressed needs and anxieties. Suddenly, as if by magic, their value proposition appeared. There were lots of hugs and "hail fellow-well-met" back slapping.
I said goodbye to Ms. Tiubie and went back to my office. I threw my knock-off wingtips on the desk and started to make out my invoice. Somewhere down in an alley I could hear a street musician sawing away on a violin doing a half-decent job of playing "We'll Meet Again"… The other sounds of West Squeegie drifted up to my open window melding into an urban coda at sunset — traffic sounds, heels on pavement, sirens in the distance and the half-forgotten lyrics of the song drifting over all …
We'll meet again
Don't know where
Don't know when
But I know we'll meet again
Some sunny day
Keep smiling through
Just like you always do
'Till the blue skies
Drive the dark clouds far away
I filled out the invoice, closing out the day.
Subject: Lost Value Proposition
Client: B. Tiubie
Status: Case solved.