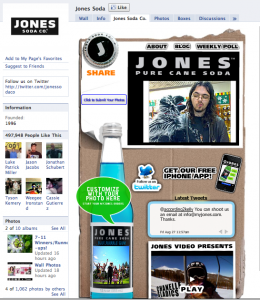 Today's post on Social Media Examiner looks at 10 Facebook Pages that do a great job selling their owner's brand and identity: 10 Top Facebook Pages and Why They're Successful.
Of course any small-to-medium sized business (SMB) will probably note right away that these are all highly customized Facebook Page accounts featuring custom-designed pages. These pages are either using FBML (Facebook markup language), FBML apps, or iframes.
And that web production "jargon" above is exactly the reason why so many SMBs don't customize their pages. Because many Page owners may think: "But the reason why I use Facebook is BECAUSE I don't have to hire someone to help design it!"
They're right: the reason so many don't customize is because it's so easy to get a "bang for the buck" by simply setting up a page and posting on it. But there's a deeper reason, too. Because customizing your Facebook page (like the Social Examiner's "Top 10" do anyway) requires a deeper level of thinking.
It requires businesses to step back and ask themselves what they really should be promoting or doing with their Facebook page. And that's the nut of the problem. Many SMBs need to do a deeper think into their marketing. What do we really want to promote? What do we want people to do when they get to our Facebook Page? How do we get people involved?
These are the real reason so many SMBs don't customize their Facebook Pages.
I'd advise if you are an admin or owner of a non-customized page you start by looking closely at those "Top 10." Then you may want to step back and call in a professional to help you determine answers to those key questions. And hire a developer to help you execute.
It's not as hard as you think, and the benefit will be to focus you're marketing efforts on achieving real results.