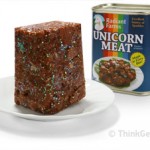 One of the truly great things about a company blog is that it lets your business react to adversity – and turn it to your advantage.
Here's a great example. The www.thinkgeek.com is a kind of toy store for all things IT geeks love: USB toys, puzzles, T-shirts, games, gadgets, etc.
Not long ago they posted an April Fools' Day gift item: Canned Unicorn Meat that "tastes like rotisserie chicken but with a hint of marshmallow sweetness." The phony product page featured the tag line: "Unicorn – the new white meat."
Guess who sent them a cease and desist order? The National Pork Board, for infringement of their slogan "the other white meat."
Well, no sooner did the people at ThinkGeek get the cease and desist when they decided to post it on their blog last week (June 21) with a link to the complete 9-page cease and desist letter. Of course they linked to the blog post on their Twitter page.
The result? 257 comments, mostly all in one day. Using my hefty math skills, that's about a gazillion more comments than they get for most posts.
Just Google "unicorn meat cease and desist" … and you'll get 50,000+ results. That's right: 50,000+ web pages mentioning ThinkGeek's run-in with the National Pork Board.
Think they got any new business from that?
I think ThinkGeek needs to send a gift basket to the National Pork Board. Of canned unicorn meat of course.