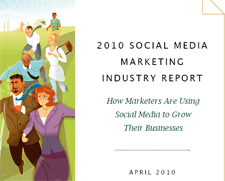 No kidding folks. This is the best free report on the state-of-the-market on social media I've seen in a long time. And it's free.
2010 Social Media Marketing Industry Report
The report is by SocialMediaExaminer.com founder Michael A. Stelzner and is culled from interview/survey work with about 1900 small business owners. Of course in the middle of it is a big promo for the Social Media Success Summit 2010 (kind of the point, yes?), but this is a nice, meaty report.
I love stuff like this because, frankly, I still encounter a boatload of skepticism on social media among small businesses. Here's just a snippet of some of the great data:
Still new, but use is becoming the "norm": A whopping 65% of respondents have just started using social media. 31% have been doing it "for years."
Exposure, Leads Biggest Benefits: 85% said exposure of their business was the biggest benefit and more than half (52%) said it generated qualified leads.
Experienced Users Close Business With It: 73.8% of users who have used social media for years say it has helped them close business.
Main Tools Used: Twitter, Facebook, LinkedIn and Blog — with the largest percentage (a whopping 81%) planning to increase blog activity.